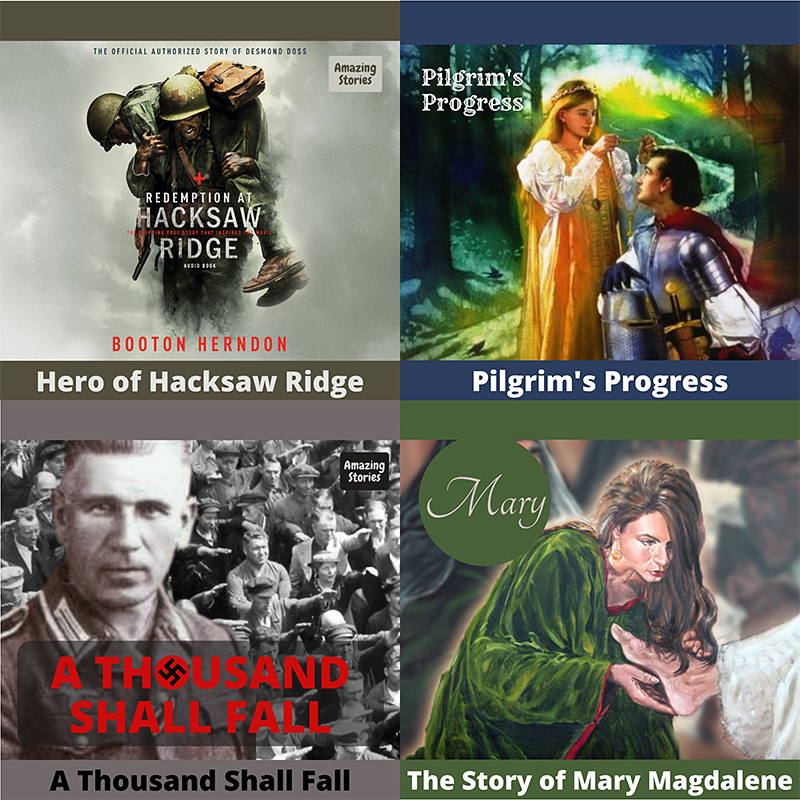 Date:
JavaScript Disabled
Local Time:
JavaScript Disabled
A Thousand Shall Fall
The true story of a family caught in Hitler's Germany during WWII. Franz Hasel is drafted to build bridges at the front lines. All but seven of his 1,200 man unit die before they enter the heart of Russia. This incredible story of testing faith will keep you on the edge of your seat.
Program Producer Website
Battered to Blessed
The true story of Brenda Walsh as told by the author herself. From the depths of despair God redeems and transforms a broken life!
Program Producer Website
Between Hell & High Water
The unforgettable tales of survivors of Hurricane Katrina. These engaging stories of good and evil, despair and hope will give you encouragement as you face your personal times of trouble. Kay Kuzma and Brenda Walsh bring you these stories of faith.
Program Producer Website
Christiana
Now in modern English comes Christiana – Part II of The Pilgrim's Progress Audio Drama Series. This new enhanced dramatization retains all of the spiritual treasures of the original while carrying them to new heights of power and clarity. Without question the most adventure-filled and listener-friendly audio dramatization of Christiana ever recorded, yet totally unabridged and faithful to Bunyan's original story line.
Program Producer Website
Hero at Hacksaw Ridge
The incredible true story of conscientious objector Desmond T. Doss. Doss saved 75 men in Okinawa, during the bloodiest battle of WWII, without firing a single shot. On the front lines without a weapon, Doss believed that the war was just but killing was wrong. As an army medic he put his life on the line to single-handedly evacuate the wounded near enemy lines. Desmond Doss was the first conscientious objector to win the Congressional Medal of Honor!
Program Producer Website
Heroes of Faith
Listen to the fascinating stories of John Newton, Susanna Wesley, Adoniram Judson, Gladys Aylward, Dwight L. Moody, Oswald Chambers, Fanny Crosby, Joseph Merrick, and Florence Nightingale. These heroes all shared Christ on the front lines in the spiritual battles of their times. Today their stories continue to encourage us in our faith.
Program Producer Website
He's Waiting For You: The Mary Magdalene Story
This audio dramatization written and directed by Jim Pappas is a tender retelling of the story of Mary of Magdalene. A serious production with multitudes of life-lessons for young listeners. Guaranteed to be a life-changing experience.
Program Producer Website
Pilgrims Progress
John Bunyan's immortal classic, The Pilgrim's Progress, is now available in the most adventure-filled and user-friendly format ever! The Dramatized Pilgrim's Progress is a virtually unabridged and faithful retelling of Bunyan's original allegory. This heartwarming series combines ease of understanding with simplified spiritual insights. Several entirely new scenes and realistically vivid characterizations make this great family home entertainment.
Program Producer Website
The Greatest Story Ever Told
The Greatest Story Ever Told is a religious dramatization about the life and times of Christ. It is "the greatest story ever told from the greatest life ever lived! The directors decided to have Warren Parker play the part of Jesus in anonymity as this was the first ongoing series to feature Jesus as the main character. They also decided that there were to be no photographs of the performers and no commercials or live audience. Recorded between 1947-1956 you'll enjoy this throwback to old time radio.
These programs air in rotation. When one series finishes another will begin.